Sears Wish Books 1937-1975

"The 1933 Christmas Book catalog started a tradition that made the Sears Wish Book an American icon. The Sears catalog and the name Wish Book were closely linked over the years. Prior to 1933, Sears customers often affectionately referred to the large, semi-annual, general catalogs Sears issued as the "Wish Book" or "Book of Wishes." After 1933, the Wish Book name became synonymous with the annual Christmas Book catalog. In 1968, Sears made it official by renaming the Christmas Book catalog The Wish Book." -from the SearsArchives website

We'll concentrate and the guitars and amps that were offered in the yearly holiday catalog, but if you'd like to check out complete catalogs (and I KNOW you do), head over to WishBookWeb for full Christmas catalogs from Sears, JC Penneys, Montgomery Ward, FAO Schwarz and more!





1952. A terrific selection for all your strummers as the Fifties get underway, including the round-bottomed guitar from the long-running 600 series, still-popular Gene Autry flattop, the 'Wahini' ukulele, and some of the Kay-built 'Aristocrats.'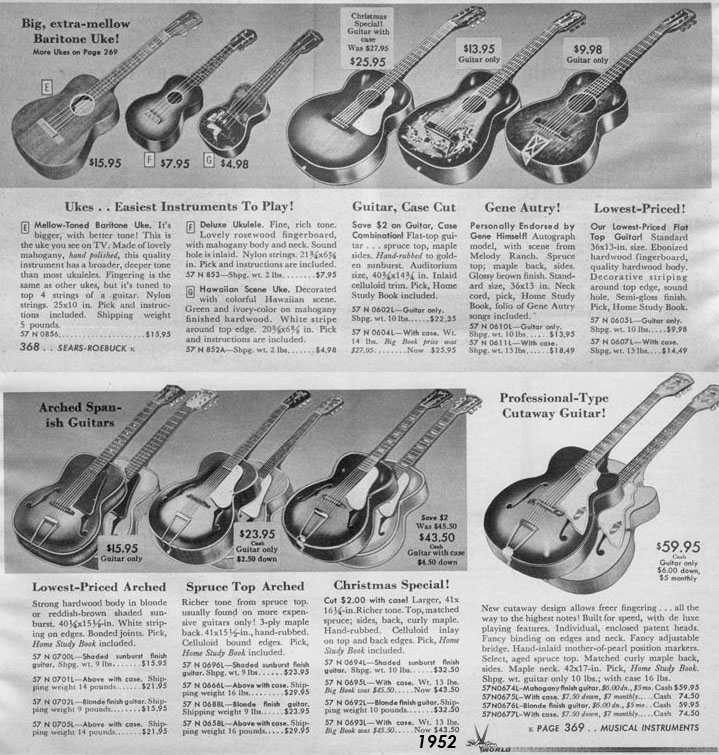 1956. Roy Rogers takes over the celebrity endorsement this year, accompanied by a good selection for your favorite picker.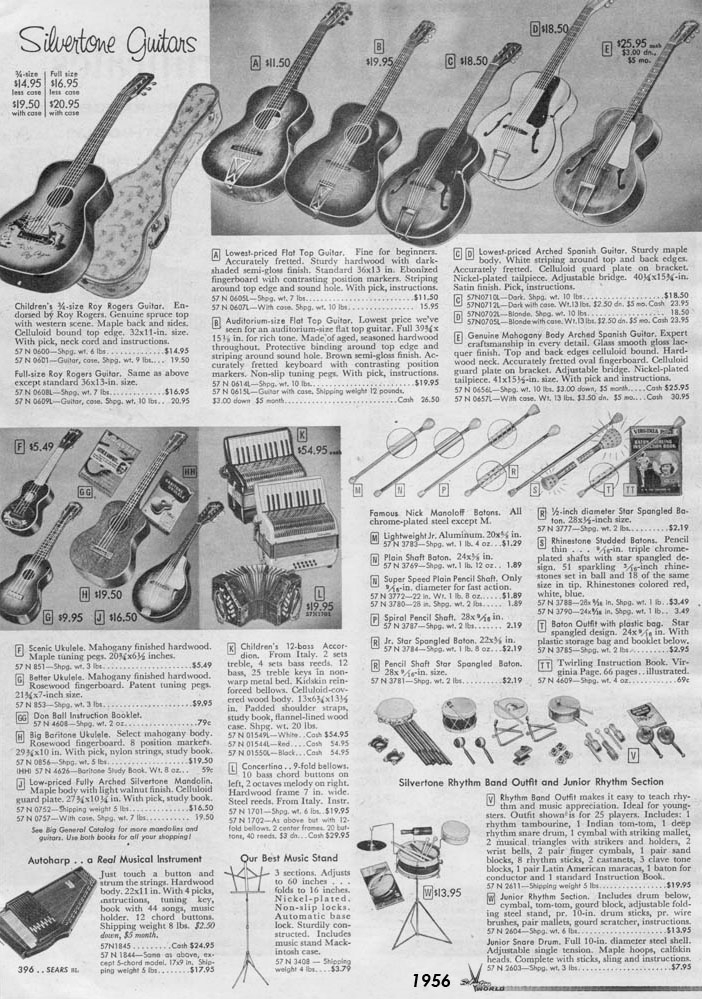 1957. Roy rides on, a couple of nice Harmony-built flattops, and look down at the bottom... one of the first Dano amp/guitar combos in the Wish Book!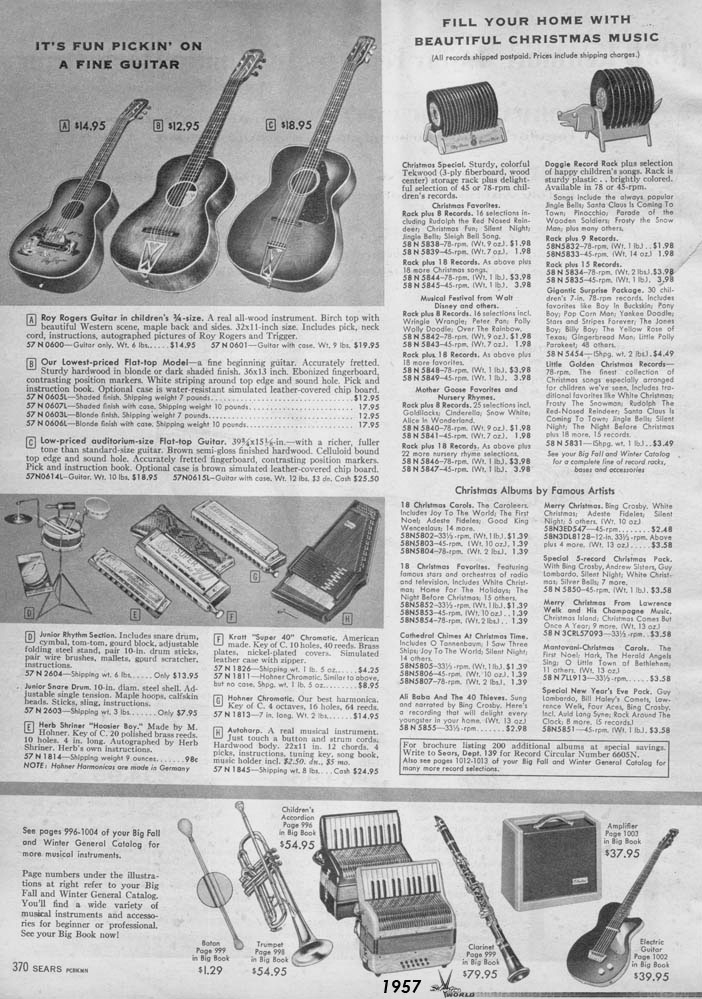 1958. The Kentucky Blue is part of the herd this year, along with a 3/4 non-endorsed 'Western Scene' guitar, and the first appearance of the Dano-built 1304, the only mid-pickup equipped 'U' shape guitar Sears ever offered.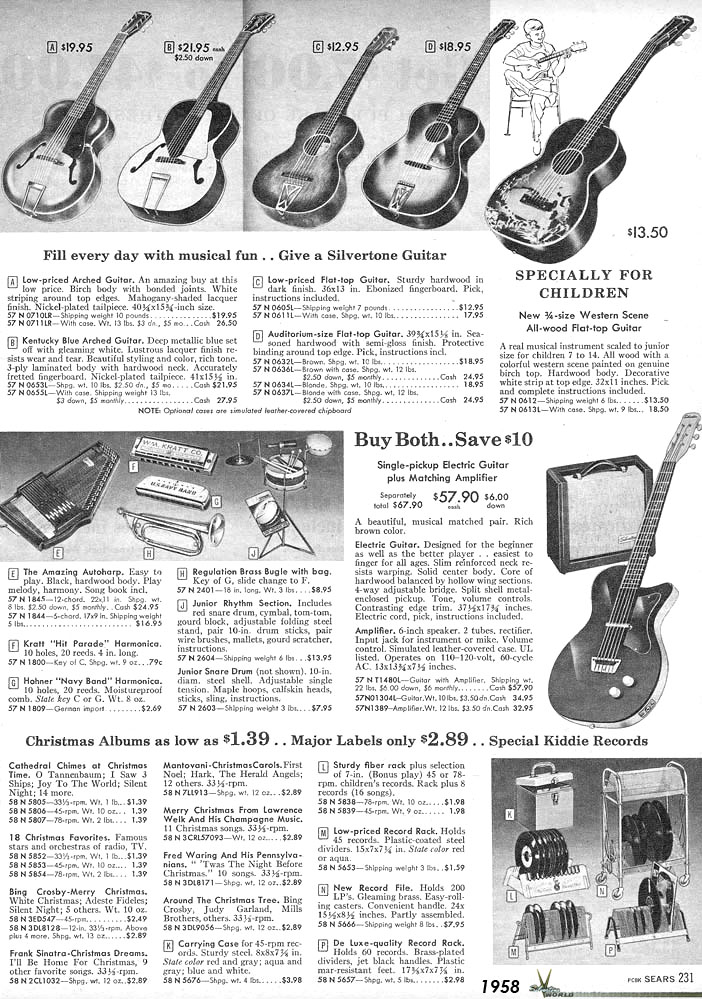 <=== Page 1 ~ Page 3 ===>





I'm still looking for Wish Book pages to fill the gaps. If you've got scans of Christmas/Wish Books from Sears for the years 1933, 1934,1935, 1936, 1938, 1939, 1941, 1948, 1949, 1950, 1951,1953, 1954, 1955, 1960, 1961, 1963, 1965, 1967, 1973 and 1974, I'd sure appreciate you sending them to me. I'll even give you a free pair of Silvertone guitar picks for your trouble!





©2006-2018 SilvertoneWorld.net