Vintage Sears Christmas Ads from the
1950s, 1960s (and a couple of 70s!) Part I





Here's a treat, Silvertonians: thanks to the magic of Google and a little help from Ancestry.com, we've got access to vintage
newspaper ads from several newspapers across the country. We found a nice collection of Sears/Silvertone
adverts, and formatted them for easy perusal and enjoyment. So... peruse and enjoy!

The first four pages are new finds from 2018.





Here's a terrific ad from Texas, 1963, featuring this cool rockin' dude, his new 1448 setup, and some dancin'
friends in the background. Oddly, the price listed in this ad is higher than the price in the Fall/Winter '63 catalog.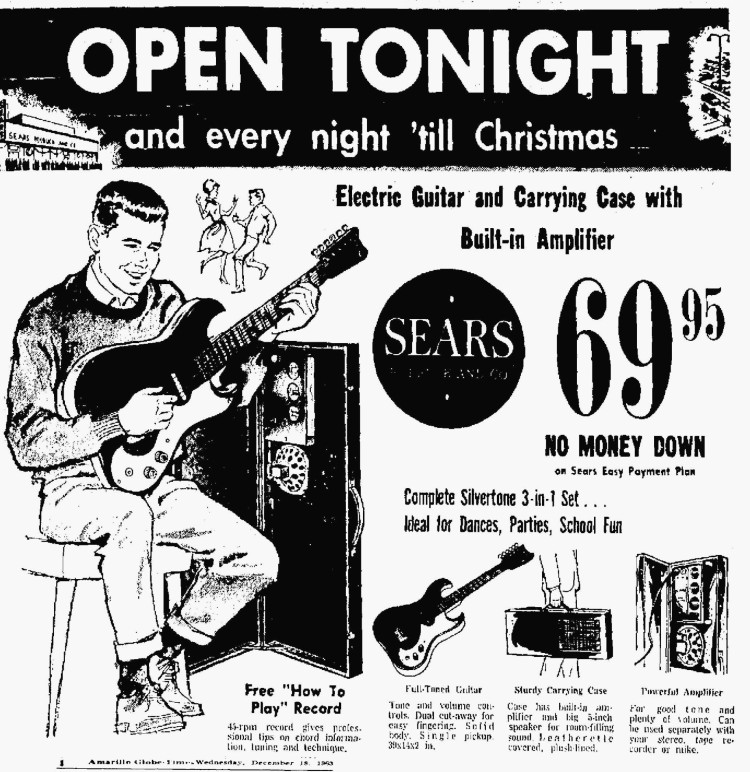 Here's a loooong ad, and not a holiday one, but with lots of great bargains for Spring 1966. It's got a classical 657, a 1448 and 1457 setup,
and a big surprise; the non-catalog Italian-made 698! Also, Sears is bringin' the music to the kids with a
big 'Hullabaloo and Coke Party!'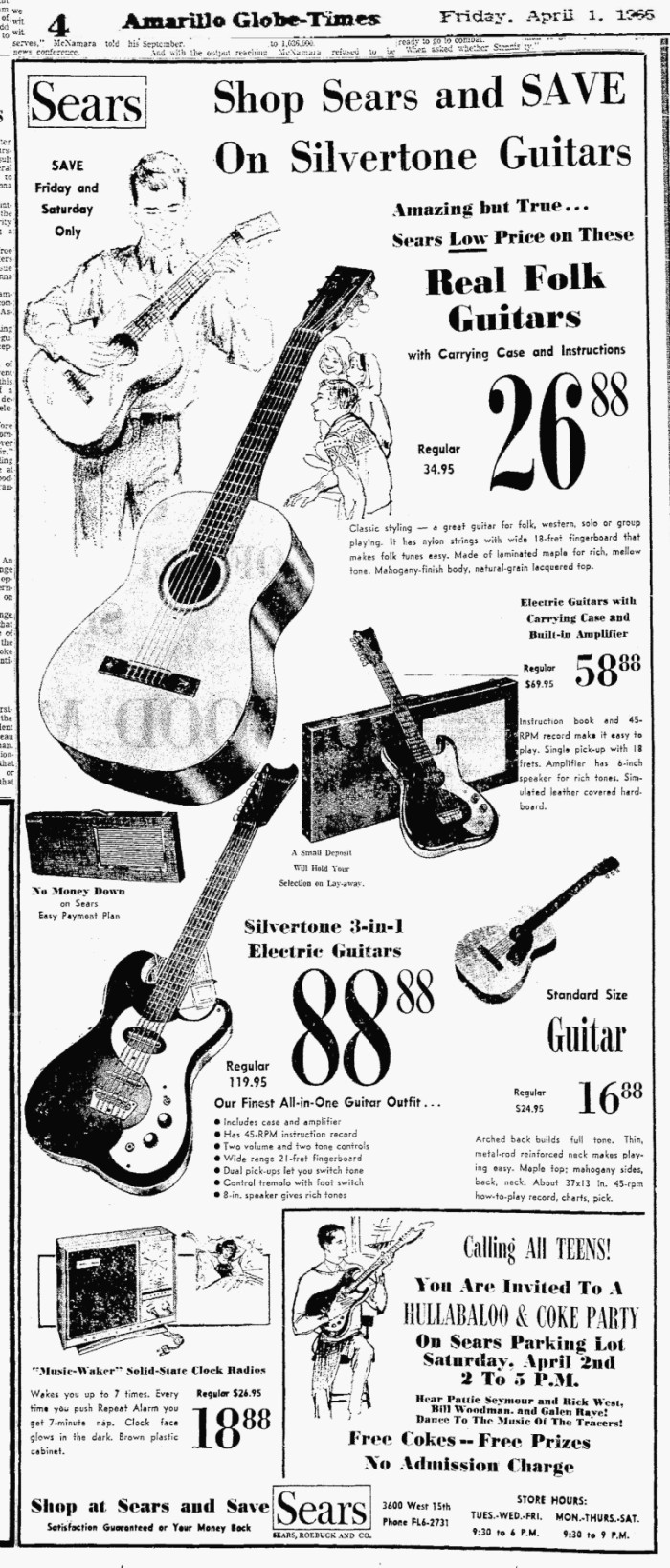 Look closely at the inset party announcement...
Thanks to YouTube we can enjoy some great 60s garage rock and a dramatic soundtrack tune from
some of the performers mentioned: The Tracers and Pattie Seymour! Sölly/Sully Records was a Texas
record label that The Tracers and Seymour were both on, so it fits right in with a parking lot party
thrown by Sears in 1966 in Amarillo!




Something cool from 1958, it's a Dano guitar/amp package featuring a 1300 offered with a 1391 amp for a
bargain price, with a Harmony-built 605 acoustic offered in the bottom inset.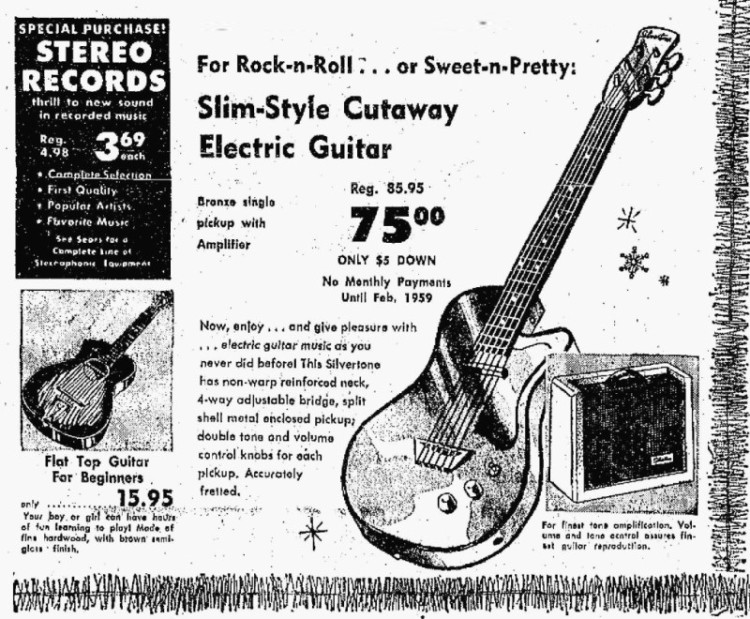 Another in the combo arena, this 1304/1389 combo was offered in the Wish Book for 1958, '59 and '60.
Interestingly, by the time this ad ran, the combo amp offered was no longer the 1389, but the odd 9075.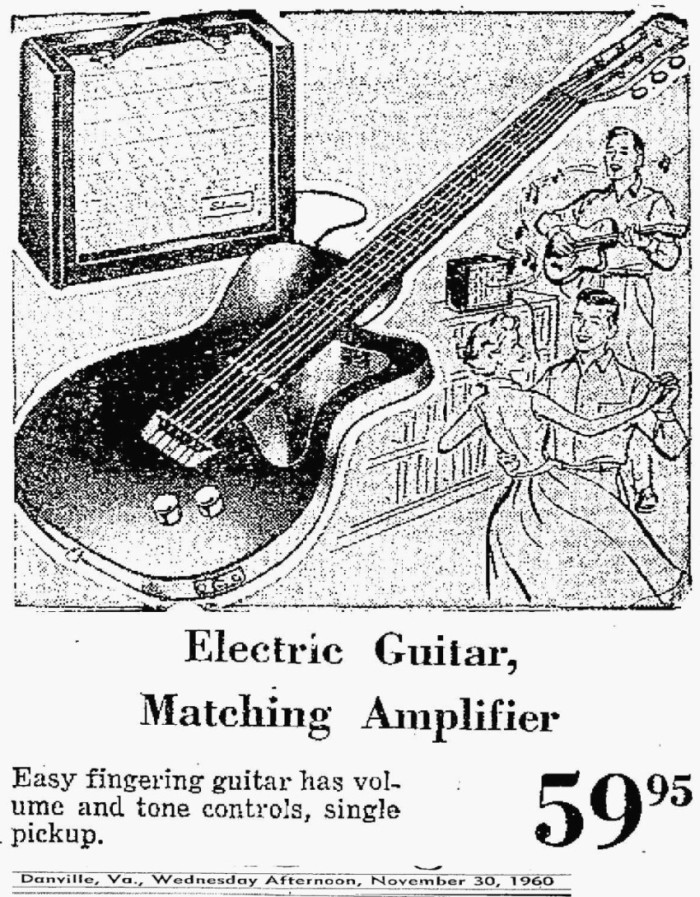 Get in early on your shopping with Sears layaway plan. This 1963 features the short-lived 1449 ampcase combo.
This sale features a substantial $20 saving from the catalog price.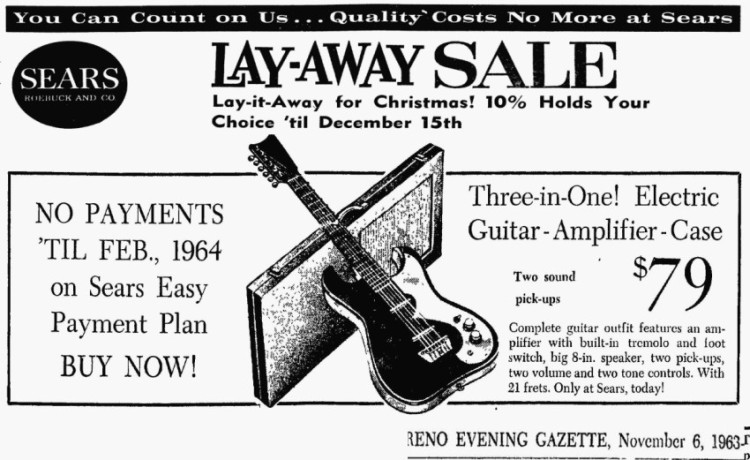 More? You say you want MORE? Oh, there's MUCH more ====>



Don't forget to visit our big Wish Book set of pages for catalog listings for the holidays from 1937 through 1975!





©2006-2018 SilvertoneWorld.net